Standing between the United States Consulate and the Law Society of Ontario in downtown Toronto, Jorge Heredia is draped in a Cuban flag. He holds a pro-democracy message inscribed on a white bristol board, saying: "Whenever Cubans rise up in the streets of Havana to demand their freedom, we will reply their cries here as Cuban-Canadians."
Anti-government dissent on the streets of Cuba is rare, but recent protests against communist regime reveal deep discontent among Cubans. Public discontent is fueled by growing political and economic pressures exacerbated by the COVID-19 pandemic which has cut tourism – the main source of income for the island. Rising inflation rates caused by trade embargoes, an unstable currency has resulted in worsening living conditions. The country is rocked by power outages and shortages of food and medicine.
Meanwhile, COVID-19 cases soared to more than 9,000 a day in early August. Following historic protests, Miguel Diaz-Canel's government imposed a media blackout and shut down the Internet. Just last week a new cybersecurity law was passed which would prevent citizens from using social media to criticize the government.
Heredia came to Canada in 1998 as one of Cuba's many asylum seekers and political exiles. As the situation in his country worsens, Heredia denounces what he sees as Canada's contradictory policy towards Cuba.
Prime Minister Justin Trudeau admitted massive protests in June were not just about anger over food shortages but a political requirement of democracy. Despite condemnation of the crackdown on protesters, Heredia said he believed Trudeau's forceful rhetoric was not accompanied by action.
"The Canadian government must stand up and sanction Cuba as it would any other government depriving its people of their rights. Heredia insisted. "The crisis which has a negative impact on Cuban citizens is directly activated by the fact that our Canadian governments remain neutral on certain positions. "
Send a message to our fellow Canadians
Heredia attends protests to send a message to fellow Canadians: "If you are visiting Cuba and enjoy vacationing in Cuba, contact your Canadian-Cuban neighbors. Learn to support our community of settlers here and the future of the Cuban people.
Like many people seeking refuge in Canada, Heredia came here for the financial opportunities it offered. He wanted to be able to support his extended family in Cuba financially, but says it has become more difficult to send money home. Blaming the US sanctions, the Cuban government has decided to temporarily stop accepting US currency (USD). Many fear that this decision will become permanent.
As of June, Cuban citizens have only been able to find essential items, including milk, eggs, rice, and hygiene products at state-sanctioned merchants who only accept Monedas de Libre Comercio (MLC ). All foreign currencies must now be converted to MLC, which means this is the only viable currency option for Cubans living on the island.
"Before, I could just send any currency and my family would withdraw money from an ATM. Cubans are now limited to state-funded merchants who only accept the state's new MLC currency, "Heredia said.
Reprisals for the exiles
Miriam Bressler is a public servant who has lived in Canada for 24 years. Her husband, Emilio Bressler Cisneros, is a former political prisoner who has been charged with ""distribution of enemy propaganda "for allegedly distributing leaflets who criticized the government. He was sentenced to six years' imprisonment in the infamous Boniato prison, in the province of Santiago de Cuba.
Bressler said New Canadian Media that Cubans living abroad face reprisals if they attempt to enter Cuba, especially if they have criticized the Communist government. She says her husband is one of the many Cuban Canadians who are regularly denied entry to the Caribbean country. Cisnero has not seen his family since his defection from the island in 1998.
Bressler claims the Cuban government will not even allow her husband to enter the Cuban consulate in Canada to apply for a Cuban passport to return to the country.
"This is not correct. We need our Canadian government to defend Cuban-Canadian rights," Bressler said.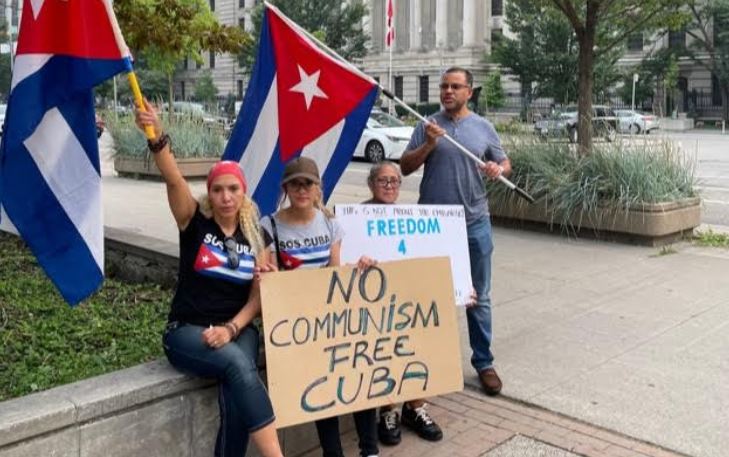 Bressler's Canadian-born daughter Yessica is also concerned about Cuba's future. While attending the protest in Toronto, she spoke of the Communist Party of Canada activists and Socialist Action supporters who gathered in front of her.
Activists of the Communist Party of Canada and Socialist Action are seen as insulting certain Canadians of Cuban origin. Yessica suspects that there aren't many members of these groups who belong to the Cuban diaspora, and if not, she said they are doing her community a huge disservice.
She says that under the Cuban dictatorship, citizens are unable to exercise rights like freedom of expression or freedom of assembly that members of these groups can freely exercise in Canada. Yessica said they had an obvious blind spot.
"What they (the activists of the Communist Party of Canada and Socialist Action) do not understand is that by supporting the regime in Cuba, they are not supporting the Cuban people who peacefully threw themselves into the street, "she said.
Impact votes at the ballot box
"Cubans are asking for freedom. Militants idealizing the Cuban Revolution and Cuban-style "communism" and "socialism" do not heed the demands of the Cuban people. Cubans need food, medicine, jobs and an open economy. All of which is much more widely available to all Canadians, regardless of political or dissenting opinions, "Yessica explained.
Like Heredia, Miriam and Yessica have joined pro-democracy supporters in Toronto to show their solidarity with the citizens taking to the streets in Cuba.
"The reason we are meeting here today is that the Cubans do not have a voice. There are independent media… but journalists are under attack. If they disagree, they are arbitrarily detained and thrown in jail, "Miriam said. "We need the Canadian public to know what's really going on. Many people have had the illusion that Cubans live in a social utopia, "she continued.
Those who support Cuba's pro-democracy movement want Prime Minister Justin Trudeau to speak for the "overwhelming majority" of Cuban-Canadian voters who have settled here as refugees. They hope at last to see Cubans freed from economic and social stagnation. Some are also urging the prime minister to label the island nation's government a "dictatorship" and "regime" to send a strong message to other countries.
For many at the solidarity rally, the reaction of politicians will have an impact on how they vote at the ballot box.
"We urge our leaders in Canada and the Trudeau government to stand up on our behalf, influencing lasting change for a new relationship with the Cuban people," one protester said, as the crowd dispersed, vowing to continue his campaign. for freedom. for the Cuban people.
---
This story was produced as part of the NCM Mentorship Program. Mentor: Marcus Medford
Cuban-Canadian Communism Cubadictatorship